New Executive Director Announcement
---
The Nebraska Civic Engagement Table is pleased to welcome Meg Mikolajczyk as its new executive director as of Sept. 27. Angie Remington, who has been serving as interim executive director, will return to her deputy director position. We would like to offer our deepest gratitude for her leadership during this transition period.
Meg joins us in this new role as a longtime champion of and as a visionary leader in the Table's work. She was a founding member with the Table, and a board member since 2019. Prior to joining the Table staff, Meg served as the Deputy Director and Legal Counsel for Planned Parenthood North Central States and several of its ancillaries. She also established an annual policy summit at UNL's Law College. This conference has brought professionals, students, local and national policymakers, and community members together to discuss advocacy work, policy, and the development of action plans for a better community. A full bio is below.
---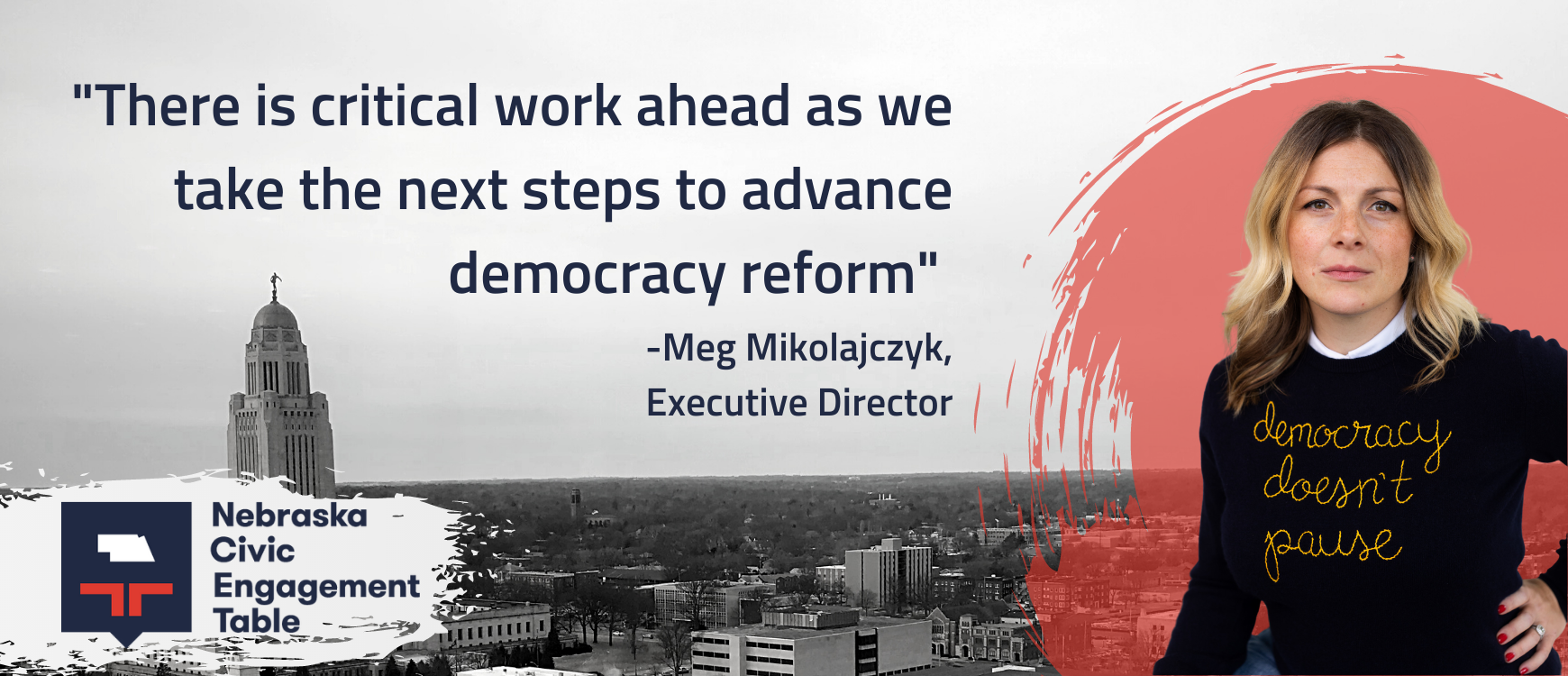 ---
"Meg is a tenacious leader with nearly a decade of success in public policy, electoral, and organizing spaces," said Board President Katie Weitz, PhD. "She is a founding member of the Table and no stranger to the work. We were impressed with her vision for the future, her expressed care and concern for the success and growth of staff and members, and ultimately, her passion for the mission and what she believes is possible in Nebraska to engage and strengthen the Rising American Electorate."
Meg looks forward to using her extensive experience and expertise in public policy, advocacy and organizing to deepen the power of our network and our communities. Under Meg's leadership, the Table will commit to growing programming and supporting Nebraska's Rising American Electorate at this pivotal moment for our democracy. 
"As a Table member, I've been proud to be part of the work and excited to see the direction the staff and members have taken the organization during its first five years," Meg said. "There is critical work ahead as we take the next steps to advance democracy reform - work that would not be possible without the strong foundation envisioned and built by the leadership before me and all the people who are part of this exceptionally talented network and team."
Please help Meg feel welcome in her new role at the Table. As she settles in, please be assured that resources and tools will continue to be available to our members without interruption. 
About Meg
Meg first joined the Table in 2016 as the representative of one of the founding members, Planned Parenthood of the Heartland, and then as a member of the board of directors in 2019. Prior to her role as the Executive Director, Meg served as the Deputy Director and Legal Counsel for Planned Parenthood North Central States and several of its ancillaries, where she focused on expanding access to health services and growing power across the state of Nebraska through direct and grassroots lobbying, organizing, and electoral programming. 
Meg received her Juris Doctor from University of Nebraska College of Law in 2011, along with multiple awards for exemplary legal abilities. After graduation she entered private practice, arguing before the Nebraska Supreme Court on behalf of the right of same-sex couples to divorce and as one of the lawyers representing landowners against TransCanada and the Keystone Pipeline. She also experienced success in federal court regarding Nebraska's ballot initiative process. Meg is active in the community, serving on the Nebraska Conservation Voters Board, on a committee within the League of Women Voters, on the Lincoln Mayor's Commission on Women and Gender, and with youth organizations. She dedicates time as an adjunct professor of public health policy at the University of Nebraska-Omaha, and she also volunteers her legal skills, advocating for tenants in eviction proceedings during Covid-19.
Meg enjoys spending time with her husband and three children. She loves traveling, true crime, running, coffee, and any celebration involving cake.